TIMES HAVE CHANGED,
CLOGGED DRAINS HAVEN'T.
Celebrating 96 Years of Satisfied Customers
SAME-DAY & NEXT-DAY AVAILABILITY!
Drain Cleaning in Portland OR & Vancouver WA
We've all had that stubborn clog where no matter what you try, it just won't budge. Even after hours of plunging, the backup just won't give up. If you're encountering a severe blockage, stop throwing your time and money down the drain! It's time to call in the professionals.
All jokes aside, a blocked drain can cause some major issues if it isn't addressed quickly. Even if the clog begins as a small inconvenience, it could overflow into a much bigger problem. Flooding, water damage, mold growth, bacteria, and unpleasant odors could damage your house or put your family's health at risk. To keep you home and family safe, it's important to clear out clogged drains as quickly as you can. And, if nothing seems to be able to get rid of the backup, it may be time to call for backup!
Fortunately, the drain cleaning experts at D&F Plumbing, Heating and Cooling are here to help.
Emergency Services
On-Site Diagnosis & Estimates
Licensed, Bonded, Insured
Journeyman Plumbers
Our Journeyman Plumbers Are Experts In…
Signs You Need Drain Cleaning Services
It might be tempting to battle the blockage on your own. Armed with Drano® and a plunger, what could go wrong? Well, not only can these methods be harsh on older pipes, but they aren't very effective against every type of clog. If your drains are showing these signs, then it might be time to call for a professional drain cleaning:
Slow-moving drains
Recurring clogs
Poor water pressure
Unpleasant odors
Water is bubbling up
There's an overflow
How Does a Professional Drain Cleaning Service Work?
Fortunately, expert drain cleaners have the tools and experience needed to clear out even the biggest clogs. The best plumbing professionals will have the equipment and capabilities needed to quickly and safely clean all types of drains.
Here are just a few of the ways expert plumbers can clean out your drains:
Hydro jetting
Drain snaking
Using a sewer auger
Performing video inspections
"Wondeful people! Great service, they did the plumbing on my remodel and a new build. I still use them for clogged drains and other fixes. I wont use anyone else! They are the best!"
Katherine G.

"Had a leak in our dining room over Memorial Day weekend. D & F did a fantastic job, were there on time and kept our house as clean as possible. Thank you so much!"
John K.

"Kitchen faucet installation. Thorough, very informative about process and pricing. Offered 5 point inspection of other plumbing related items (toilets, water heater, sinks, etc) in house for free. Pleased with service and will recommend to friends and family."
Zoe P.

Experts in Residential Drain Cleaning
With D&F Plumbing, Heating and Cooling, you can count on thorough service and exceptional customer satisfaction. Thanks to our experienced journeyman plumbers throughout the Pacific Northwest, you'll be sure to get the most effective and efficient drain cleaning possible. We offer services to help with all of your plumbing needs. For fast and reliable residential drain cleaning, call us today!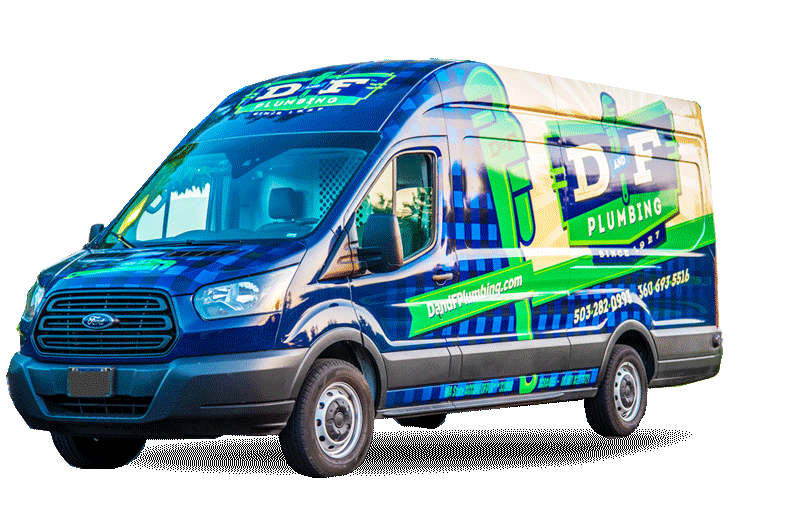 We offer financing for all projects big and small.
Have a larger project like the ones below? 
Don't sweat it - The Plaid Pros are here for you.
Main Water Line Replacement
Water Heater Installation
Plumbing emergencies are never convenient. Applying is fast & easy.
*On Approved Credit. Daily cost examples are average projections, but each project is different so the daily total is not guaranteed.