Water Heater Installation
You Can Count On
Celebrating 96 Years of Satisfied Customers
Signs You Need a New Water Heater Installed
Water Heater Service – Installation & Repair
All water heaters will need to be replaced eventually, especially if you have an older model, so put the duct tape down and hire a professional for your water heater installation, especially if it shows the following signs.
Lack of Warm Water
Rusted Water
Water Heater Leaks
Rumbling noises
We specialize in water heaters. If your water heater is showing signs it's on its last leg, contact us today to speak with one of our licensed and certified plumbers or to receive an estimate! We offer financing!
Our Journeyman Plumbers Are Experts In…
Heat Pump Water Heaters
Heat pump water heaters are 2 to 3 times more efficient than a conventional electric water heater.
Heat Pump Water Heaters
Electric Water Heaters
Electric water heaters are powered by electricity and use a heating element to heat water.
Electric Water Heaters
Gas Water Heaters
Natural gas is the primary fuel-source for gas water heaters because it is generally more cost-efficient.
Gas Water Heaterss
Tankless Water Heaters
Known for being more efficient and less bulky, a tankless system does not store any water, but produces it on-demand. These are good for homes with a low demand for hot water.
Tankelss Water Heaters
Conventional Storage Tank Water Heaters
One of the most common water heater types, this unit holds a specific amount of water, keeping it continually hot.
Storage Tank Water Heaters
Water Heater Maintenance
Water heater maintenance helps extend the life of your water heater and keeps it working smoothly and efficiently.
Water Heater Maintenance
Emergency Water Heater Repair
Uh oh! Got a busted water heater on your hands? Malfunctioning water heaters can make your life miserable. After all, you rely on them for showers, dishes, laundry, and more. Fortunately, you don't have to wait long to have your water heater fixed. We offer emergency water heater repair services! So don't let a broken water heater ruin your day, contact us.
Annual Water Heater Maintenance
Your water heater is constantly working hard to deliver hot water for you and your family. However, because it's operating quietly behind the scenes, it's often hard to predict when an issue with your water heater might occur. To help prevent a surprise water heater emergency, we recommend you have your water heater serviced at least once a year. This way we can fix any developing issues before they become serious and costly.
"We had D&F replace a kitchen faucet at a rental we own in SE Portland. Teena was terrific on the phone, getting us scheduled quickly, and Tyler showed up on time and did a great job. Throughout, communication was excellent. We would recommend them to anyone, and will definitely use them again both at the rental and at our own house."
Ethan S.

"D&F plumbing is the best! I probably use them a few times a year and have never been disappointed with either the service or pricing. The Plumbers are always so nice, respectful and incredibly helpful! Jesse came out today and was awesome! Randy in office is the absolute best as well!! D&F is the plumbing company I'll use and I recommend them to everyone."
Rachel A.

"I called D and F to help me figure out how to turn the water back on that was accidentally turned off. They were supposed to call me back, but instead showed up within minutes and fixed the problem free of charge. I'm very happy with how they handled this issue and I'll definitely be using them on the next job."
Adam R.

Water Heater Rebates and Incentives
You may qualify for utility rebates or incentives for upgrading your water heater.  Rebates are frequently available and when combined with other offers, you can save upwards of $1,000 or possibly more.  Rebate amounts and availability are subject to change frequently.  Please contact your local utility company to verify availability, amount and requirements for rebate and incentive eligibility prior to purchase or installation.
Quality Hot Water Installation
Want to know what it's like to work with D&F Plumbing, Heating and Cooling?
Click here to read about a real customer's water heater installation!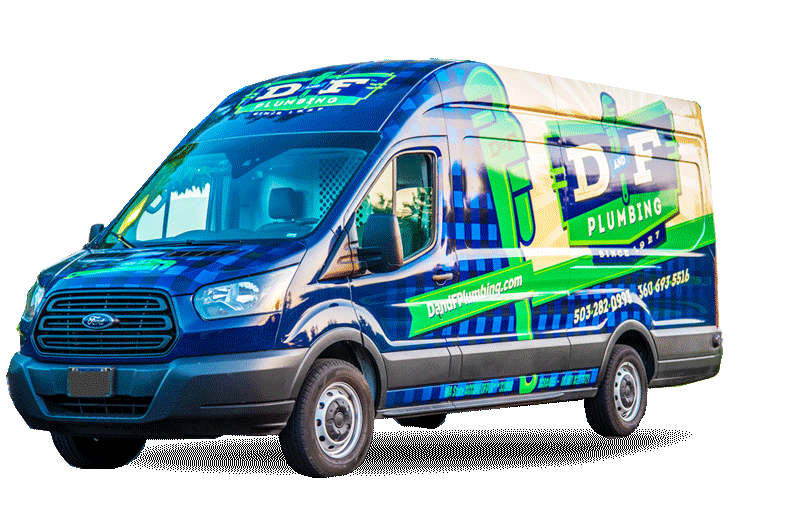 We offer financing for all projects big and small.
Have a larger project like the ones below? 
Don't sweat it - The Plaid Pros are here for you.
Main Water Line Replacement
Water Heater Installation
Plumbing emergencies are never convenient. Applying is fast & easy.
*On Approved Credit. Daily cost examples are average projections, but each project is different so the daily total is not guaranteed.